Chronic venous insufficiency and leg ulcers
What is chronic venous insufficiency?
Chronic venous insufficiency (CVI) is an inflammatory condition caused by long standing, untreated venous reflux disease.  Commonly, venous reflux disease causes a collection of symptoms such as leg swelling, heaviness, fatigue and varicose veins. But, over time, when blood is no longer circulating properly in the leg veins, skin changes can also appear. When skin changes appear, this is termed, chronic venous insufficiency (CVI). Venous stasis is another term used for this condition.   Chronic inflammation from CVI causes the skin around the ankles to darken, become dry, itchy, and firm. In severe cases, the skin can start to breakdown and ulcerate. The ulcer (wound) occurs in the inner or outer ankle and is also referred to as a stasis ulcer or venous ulcer.
Venous stasis skin changes associated with venous insufficiency include:
Darkening of the skin along the ankles
Itching and dry skin around the ankles (venous eczema)
Development of wounds around the ankles, called venous leg ulcers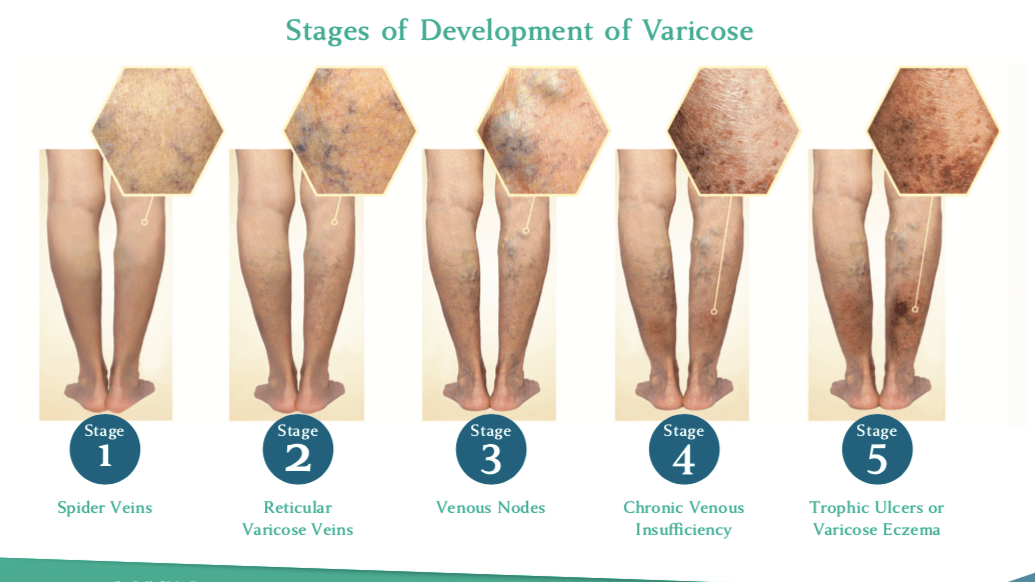 HOW IS CVI TREATED?
The treatment of CVI cannot reverse the skin changes but it can prevent it from worsening and ulceration. In our experience, treatment of underlying venous reflux reduces the inflammatory changes and the skin may become less itchy and dry, but the permanent skin discoloration does not disappear. Treatment involves correction of the underlying venous reflux.
HOW ARE LEG ULCERS TREATED?
Venous leg ulcers, depending on the severity can be healed with a combination of correction of the underlying venous reflux, wound care clinic referral, and compression therapy. A detailed ultrasound will determine what specific treatment is needed depending on where the underlying reflux lies (for example, in the saphenous veins, perforator veins and tributaries). Deep vein reflux is also present in many individuals with ulcers.
OUR PATIENTS SAY
La Jolla Vein care has the best staff ever. They are so nice, accommodating and professional!! Dr. Bunke is the best doctor that I ever seen. She is so friendly upfront and has the best bed side manner. I thank this office for letting me be their patient. 💜. Plus they are so careful with COVID which I really appreciate!!! 
Beautiful facility! I walked in without an appointment and they took me right away! It was even the end of the day…I was so grateful…Every single person was soooo pleasant! Super impressed ❤️ 
I had the best experience at La Jolla Vein Care. Dr.Bunke is an amazing doctor with the best bedside manners, she truly cares about her patients, she explained everything to me. My procedures where so easy I was impressed how painless and fast my appointments. Anna M was very helpful scheduling my treatments and checking on me to make sure all of my questions were answered. I am very pleased thank you !!! I truly recommend La Jolla Vein Care!
The staff kept you informed as to when you would be seen and the wait was not too long. Emily took care of my ultrasound and was very accommodating giving me an extra pillow and playing a video to watch. The office is very courteous and professional- Nadia answered our questions and offered us a bottle of water. I have been seeing Dr. Bunke, but now Dr. Lucas and will continue coming to La Jolla Vein Care! 
Dr De Young is personable and thorough in his explanations. Exceptional. 
When I arrived for the first time, I could barely walk. My legs were red and swollen. After my treatments, I can now walk again. I'm so thankful to the doctor and his staff. They are caring, supporting and knowledgeable about my issues. Five Stars all the way!!!! 
The office is exceptional, from front desk, to exam staff to the physicians. They have created a welcoming, relaxing environment, and take their time in examining and consulting with you to provide the best outcome. I highly recommend La Jolla Vein & Vascular for the assessment and treatment of your vein and vascular function.
The staff at La Jolla Vein Care Center are outstanding. They are friendly and helpful. Dr. Lucas and my ultrasound tech were both very thorough, kind and answered all of my questions. The new office was beautiful. I feel very confident that I am in good hands and that any up coming treatments will be successful. Thank for for making me feel so comfortable.
I am pleased to recommend La Jolla Vein & Vascular. I am in the process of receiving treatment there. The entire medical staff are super friendly, welcoming and very helpful. Everyone is courteous, including the physicians. I've had one doctor follow my case. He's the one who always treats me at appointments and closely follows my health. I am very comfortable going there. Would go again if needed and encourage anyone who's thinking of making an appointment to do so asap. You'll see what a wonderful experience it is. It's the people who make it so special!
Highly recommend! Entire staff are warm& friendly, professional and accommodating. The doctor took the time to thoroughly explain everything and encouraged me to ask questions. I never felt rushed. Significantly better experience than the other 2 vein clinics I've been to on the east coast. I wish I could've just come here from the beginning. 
The staff members that I interacted with were all professional, conscientious and empathetic to my complaints and discomfort. I was taken into the ultrasound room a few minutes before my appointment time. I did not have a long wait before the ultrasonographer came and ran the machine. It was also a short wait before Dr. Steinburg came into the room with a warm, welcoming smile. We discussed my ultrasound and the things I was experiencing . I scheduled another appointment for next year and was offered a bottle of water upon leaving the office. All in all, I thought it was a very satisfactory appointment.
I have been having leg treatments for several months now La Jolla Vein Care. Every time I go to an appointment; the staff is so friendly and takes such good care of me; always informative; not in a rush and always friendly (especially Alejandra & Anna to name a few). Of course Dr. Lucas is amazing. The treatments have changed my life. Overall this has been an incredible experience. 
From my greeting at the front desk to the ultrasound and visit with the doctor, I received excellent care. It's clear they care about their patients and all the staff couldn't have been nicer or more helpful. I also appreciate how much time the doctor spent with me to explain the results and the next steps. I would definitely recommend this office to friends with vein issues. 
Everyone here is so nice! Usually front desk medical personnel are so rude. The front desk ladies Alejandra, Anna, and I think her name is Liz, went above and beyond to take care of me and my insurance issues. The techs are great too! Rachel and a male technician assisted me…both of them implemented different techniques to make me feel more at ease during an uncomfortable and painful process. These procedures were rough…and I am grateful everyone was so sweet to me. Thanks again. 
We were early and didn't have to wait at all. The tech that did my husband's ultrasound, Monica, was very accommodating with my husband's Parkinson's. Doctor Lucas whom we hadn't seen before, came to us instead of making my husband walk down to another office. She spent a lot of time getting caught up on Steve's background issues/conditions. I was impressed by this medical group before, so I was surprised that the staff was even better this time around; I honestly didn't think there was room for improvement!